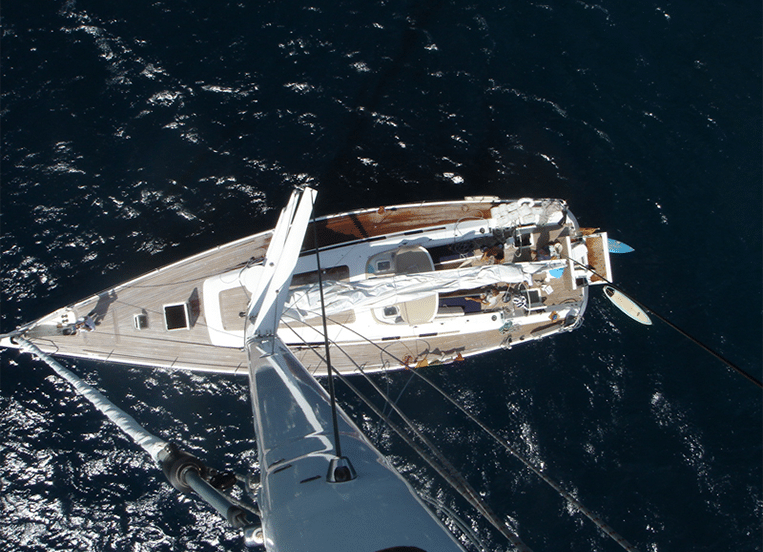 ALBATROS est un nouveau yacht très performant, très léger pour sa taille et construit pour naviguer à grande vitesse, avec un déplacement d'environ 20 tonnes. La forme élégante de la coque, dessinée par Javier Soto Acebal, le maître designer argentin (INSERT LINK 1), est conçue avec la vitesse ultime (INSERT LINK 2) à l'esprit. 
C'est une coque sûre, mais orientée course.  
Albatros is a 19m fast–cruising sailboat, thanks to its lightweight design for its size. It features a carbon mast and a Park Avenue boom. Equipped with a powerful sail plan, it is also very stiff under sail.
This SOTO 62′ was custom–designed for fast sailing in light winds, with 200 m2 of sails for a displacement of approximately 20 tons and with a fixed 3m draft keel. 
It has the interior volume of a modern 55′ sailboat with the performance equivalent to a 62′ vessel of today.
The elegant hull shape, designed by Javier Soto Acebal, the renowned Argentine master designer, is crafted for the pleasure of sailing in the Mediterranean with utmost safety.
Only two SOTO 62′ sailboats exist in the world, granting you the privilege of sailing on a truly exceptional vessel.
Albatros is proposed with 2 cabins, each of them with their private bathrooms. Explore its interior layout.
Number of berths: 4
Cabins with 1 double bed : 1
Cabins with 2 separate single beds : 1
Cabin for crew: 1
Toilet & Shower(s): 2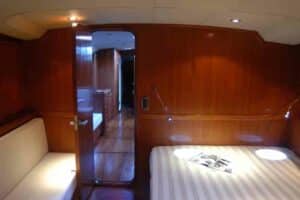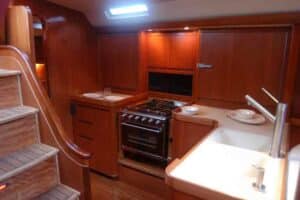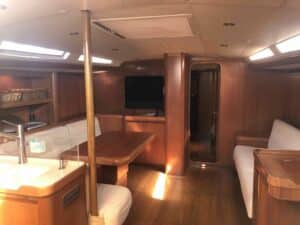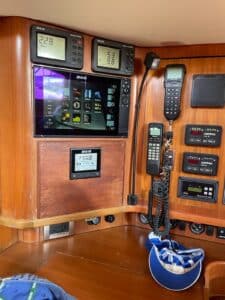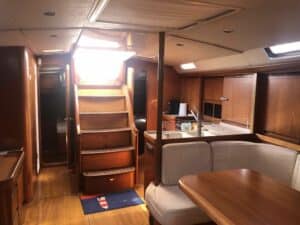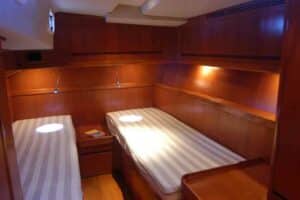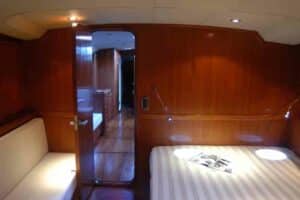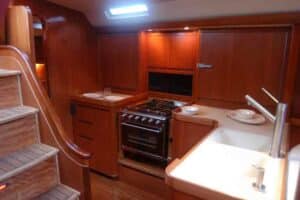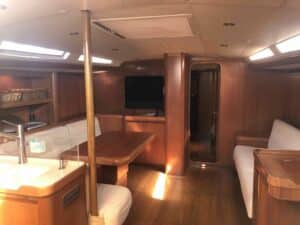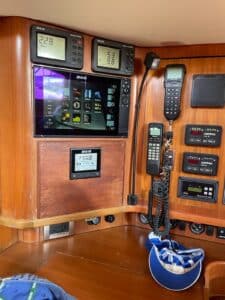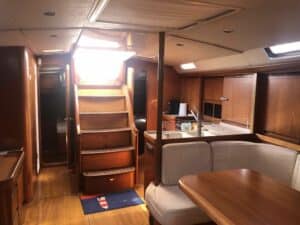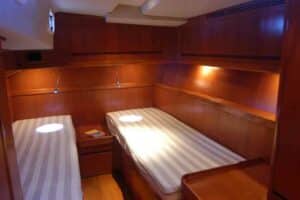 The hull shape and rigging configuration are inspired by One–Design racing sailboats.
The genoa is non–overlapping, making the sail plan tall, efficient, and easy to handle.
The SOTO 62′ has the interior volume of a modern 55′ sailboat with the speed of a modern 62′ vessel. It sails as fast as the wind in light airs and easily reaches speeds of 10 knots.
Albatros can comfortably accommodate four people and the skipper. Cherry wood, a very special type of wood, has been chosen to bring warmth to the classic interior.
For the deck layout, Albatros offers a beautiful open cockpit to enjoy the sea and the sun at any time.
With a carbon mast, Park Avenue boom, rod rigging, electric winches, hydraulic systems, and a ballast keel weighing 7.2 tons, this SOTO 62′ is perfect for high–performance sailing with comfort and style.
The SOTO 62′ was built by the shipyard King Marine, a renowned builder of sailboats for the America's Cup, theVolvo Ocean Race, the Rolex Middle Sea Race, the RORC Transatlantic Race, and other famous regattas. 
Full batten Main Sail, Genoa, Gennaker, Stormjib, Electric Winchs, Dynema, Rod Rigging, Hydraulic System
4 ( 1 double + 1 x 2 single beds)
Generator, Inverter, Air Conditioning, Heating, B&G Electronics, Sound Fusion Garmin, TV, 2 x Fridges, Nespresso, Water Purifying System, Watermaker Mastervolt Whisper 12, Bow Thruster,Tender + Outboard Engine Moteur, Paddle, Snorkeling equipment
They lived the phoenix yacht club experience
We spent an unforgettable week aboard Albatros. The natural beauty of the Greek islands is indescribable, and sailing through the crystal-clear waters was a magical experience. We loved the experience of living on a boat and enjoying the magnificent views!
Our week was an incredible experience. We sailed to breathtaking locations and enjoyed the beauty of the Greek islands. We highly recommend this unique experience.
We were able to explore magnificent sites and immerse ourselves in the local culture, while enjoying the comfort of the boat. We'll definitely be back ! luxury sailing holidays - Phoenix Yacht Club - N°1
luxury sailing holidays - Phoenix Yacht Club - Spend your holidays on a luxury sailing yacht with optimal comfort for an exceptional holiday